Midjourney Wirestock Guide – How to Make Money Selling Your Midjourney Photos on Wirestock.io
Are you looking for an easy way to make money from your Midjourney photos? Upload them to Wirestock.io and license them to all big stock photo marketplaces in one click. Learn more in my Midjourney Wirestock Guide!
Affiliate links may be sprinkled throughout the awesome, free content below. I'll receive a small commission when you sign up or purchase from my links (at no extra cost to you), which I'll happily spend on more Midjourney fast hours!
Did you know most stock photo websites now accept AI-generated images? Learn how to easily license your content to the world's leading marketplaces from one single place in my new Midjourney Wirestock guide!
How to sell your Midjourney photos on Wirestock
If you're anything like me, your phone and computer are probably overloaded with Midjourney images. Wouldn't it be great if we could use all our images to make a little side income?
Although it's great news that most stock-photo sites now accept AI-generated imagery, uploading and licensing your photos to each stock photo website separately can be quite a headache. That's why I recommend using Wirestock.io.
Wirestock.io is a free service that helps you upload and sell all your photos on popular stock photo websites (that accept AI-generated photos) like Adobe Stock, Shutterstock, and iStock.
Learn how to get started with Midjourney
Check my handy free guides for beginners to set up Midjourney in just 10 minutes and learn how to write the perfect Midjourney prompt to get started right away!
Free Midjourney Prompt Sets
Discover my free Midjourney Prompt Sets and level up your creativity! I can't wait to see what you'll make with them. Check my Instagram for more examples!
The easiest way to sell photos online
Wirestock's one-door access covers all the hassle that comes with licensing your images.
All you have to do is upload your work (no forms, keywords, captions, or payments required), and Wirestock.io takes care of the rest.
After uploading your images to Wirestock, you remain the sole owner of the content forever.
How much money can I make selling AI-generated photography
Wirestock offers a great platform to earn extra money from your AI art. The average (active) user of Wirestock earns between 30 USD and 100 USD per month.
Of course, there are exceptions, as some members make far less or substantially more than this.
Payment structure
You will get 85% of all royalties earned through Wirestock. So if your photo sells for $2 on a stock agency, you will get $1.70, and Wirestock earns $0.30.
The earnings will be displayed on your dashboard. At the end of each month, you will be paid the total amount earned if the balance on your account exceeds the minimum payout amount of $30.00.
Payment options
Wirestock has multiple payout options and currently supports PayPal and Payoneer.
My personal opinion on Wirestock
Even though this monthly payout might not seem much, I think it's a wonderful way to generate some extra side income and will surely help me pay for my Midjourney subscription each month.
And truthfully, if I'd had to upload each of my photos separately to all platforms, I wouldn't even consider selling my Midjourney images in the first place.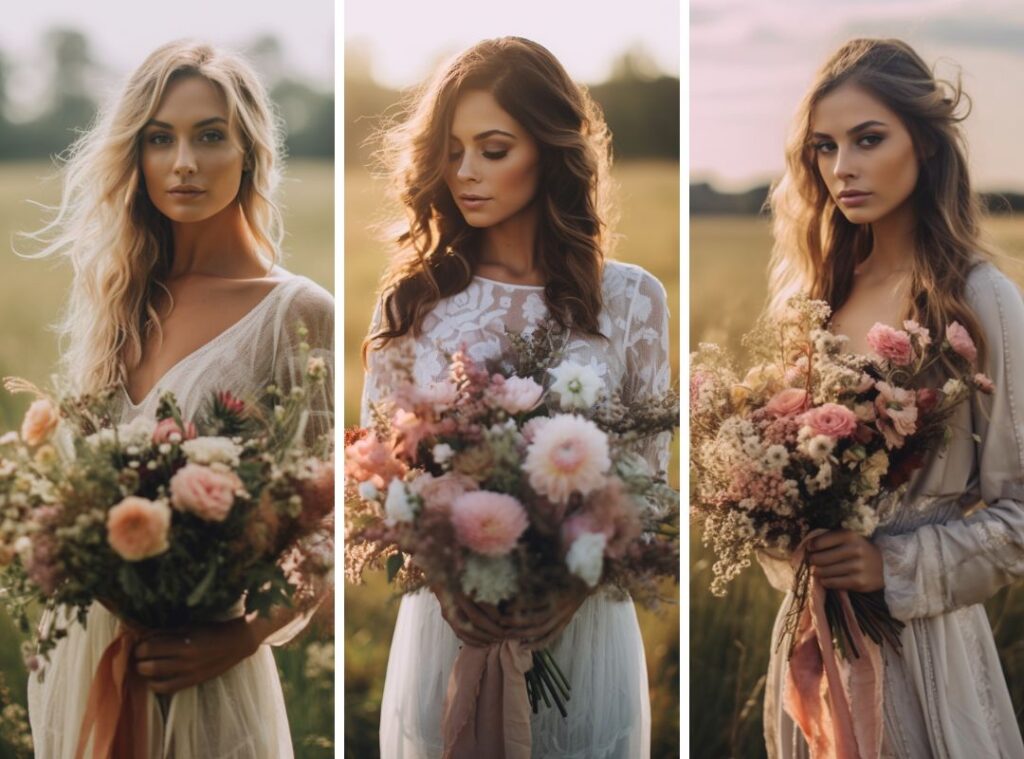 /Imagine
a beautiful modern bride holding a wedding bouquet in a field of flowers --ar 2:3 --v 5.1
Wirestock Premium Plan
Wirestock also offers an optional paid premium plan with various additional features, including extra marketplace submissions, Portfolio Pro, faster keywording and review process, and the ability to download files with metadata.
You can get on the premium plan for $7.79/month (paid annually) and $12.99/month (paid monthly).
Upscale your Midjourney images
Before you upload your images, it's essential to upscale them first. You can do so with the free tool Upscale.Media.
If you plan on selling many photos, a paid tool with batch upload functionality like Gigapixel will be more suitable.
What kind of images sell best on Stock photo websites
It's important to research which of your images will actually sell on stock photo marketplaces.
Stock photos are used for commercial and editorial purposes. Most companies that use stock photos are news publishers, blogs, and commercial sites like Groupon.
Although generic lifestyle images will do well for these categories, it can be helpful to niche down and offer a slightly more unique portfolio.
Follow trendy aesthetics
Keep an eye out for Instagram and Tiktok trends. Many online publishers will write about trendy viral topics and start looking for matching stock photography.
Also, make sure you're on top of any seasonal trend like Valentine's Day, Christmas, Thanksgiving, etc but upload them well in advance for optimal sales.
Here are ten popular stock photo categories:
Healthy Food
Colorful Cityscapes
Technology
Nature
Travel Photography
Mindfulness
Wedding Photography
I don't recommend uploading your very personal artistic style, as these images usually aren't suitable for commercial use.
Midjourney Model Licensing
Midjourney models don't technically exist, which means they can't fill out a Model/Property Permission form.
If you upload photos with AI-generated models to Wirestock, you can fill out your own personal information for registration.
Final tip
Make sure to pay extra attention to the details of your images, as Midjourney is renowned for adding some extra fingers and legs here and there 😉
Get started with Wirestock.io today!
That's a wrap
I hope my Midjourney Wirestock Guide has been helpful to you! Please add me on Instagram @sprinkleofai to ask me any questions you still have, and don't forget to tag me in all your wonderful AI Art!
Would you like to see more Midjourney photo examples? I'd love to hear your ideas, so make sure to message me on Insta!
NEXT GUIDE: Learn how to use your photos as a reference in Midjourney
Would you like to recreate new images using your own photos as inspiration? Here's a mini guide on how to use your photo as a reference in Midjourney!
How Does Midjourney Work?
Midjourney is an AI tool that can generate original high-quality images based on simple text inputs. It creates these images through Machine Learning and is continuously trained with countless amounts of data to improve the output.
How to Use Midjourney
Midjourney works within the Discord app. You can create a free account on Discord and sign up for the beta on Midjourney.com to get an invite and start generating images.
You can learn how to set up Midjourney with my free Midjourney AI Art for Beginners Guide!
About the author
My name is Marloes Ratten, and I love to make things. During the day, I'm a Macrame teacher, and at night I love to go a little crazy in Midjourney.
If you would like to see more of my AI artwork, follow Sprinkle of AI on Instagram or check out more posts on my blog sprinkleofai.com!
For more info about me or my handmade items, check my blog macrameforbeginners.com, or browse my Etsy Shop for beginner-friendly step-by-step patterns.
This website features a collection of fictional characters and products crafted with Midjourney. All images are purely imaginative, and any resemblance to actual persons or products is entirely coincidental.