How to Swap Your Face in Midjourney With the Free Picsi.AI Face Swapping Bot
Learn how to easily swap your face in Midjourney in just one second using the new Free Picsi.AI Face Swap Bot with my new step-by-step tutorial!
Have you ever dreamed of plastering your face on all your amazing Midjourney images? Well, now you can! Woohoo 😀
Faceswapping in Midjourney just became a whole lot easier with the new Picsi.AI InsightFaceSwap Bot.
It's super easy to set up, and it only takes the bot 1 second to generate your image!
Swap Your Face in Midjourney
You can use the faceswapping bot to swap the faces in Midjourney images with your favorite celebrities, use your own face and best selfies, or mess around with friends for extra fun!
Faceswapping with Picsi.AI in Midjourney
The Picsi.AI Face Swap Bot is free to use and can be installed just like the Midjourney Bot in your Discord server.
If you want access to higher user limits or the option to swap multiple faces at once, check out their Patreon.
Are you ready to be amazed? Learn how to swap your face in Midjourney with the Face Swap Bot in 4 easy steps!
Use Your Face in Midjourney – Tutorial Face Swap Bot
Step 1: Invite the InsightFaceSwap bot to your Midjourney Discord Server via this link:
https://discord.com/api/oauth2/authorize?client_id=1090660574196674713&permissions=274877945856&scope=bot
Step 2: Make sure to invite the bot to the text channels of your server so that it has permission to generate images.
Click the cogwheel next to a text channel in the left sidebar, to check if InsightFace is added under Roles.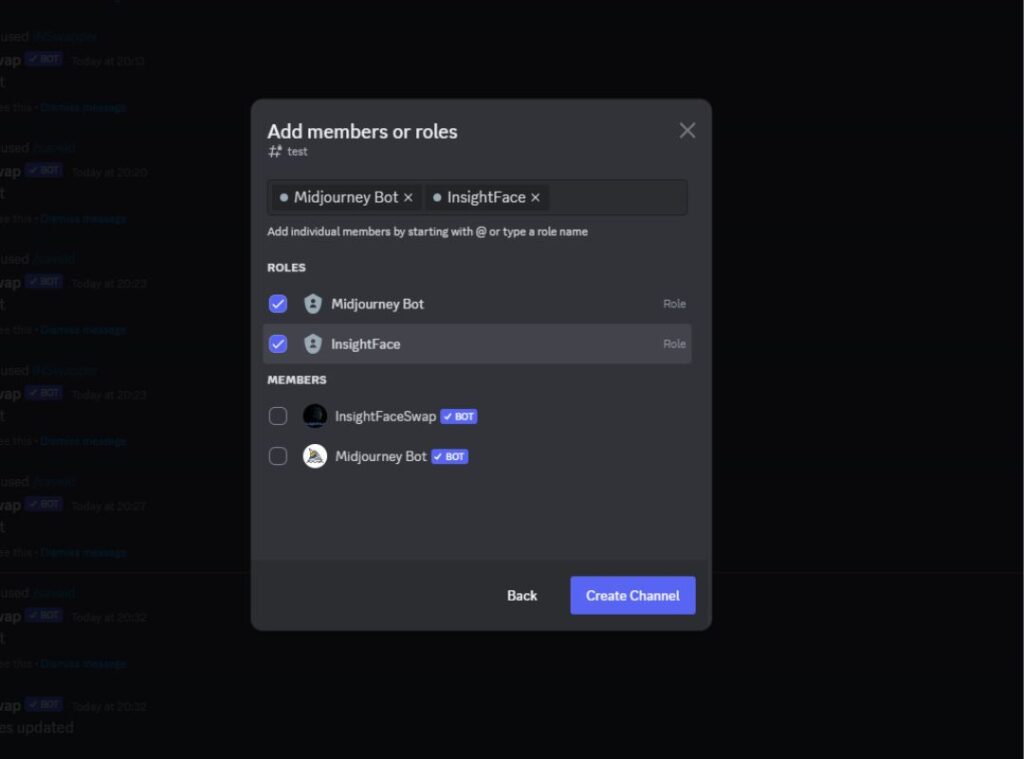 If you fail to do this, all your requests will give the return command sent without anything happening.
Step 3: Type /saveid to upload your photo and set up your ID name. The name can be up to 8 standard characters long.
TIP: Use a front-view, high-quality photo without glasses or heavy bangs. ID photos are preferred.
The bot will let you know if the save of your profile was successful with the message idname [name] updated. Your first photo will become your default identity.
Step 4: Upscale a Midjourney image, right-click or tap on the image, select Apps, and tap INSwapper. It will take about 1 second to generate the result.
Each Discord account can execute 50 commands per day!
TIP: The face swap technique works best on images with a similar face shape, as it focuses mostly on swapping the mouth, nose, and eyes when replacing the face.
Examples Faceswapping in Midjourney
As I used a pretty low-res photo, I'm pretty shocked by the great results. Not only does it take the bot just 1 second to replace your face, but it does a pretty good job at it too!
Use Local Images for Faceswapping in Midjourney
You can also use this face swap method to swap the faces of images that you have stored locally on your phone or desktop.
Simply type /swapid in Discord to upload the image you want to use for face-swapping with the default identity image you've set in previous steps.
Other commands
You can type /setid to change the default identity name
You can use the /delid and /delall commands to delete registered IDs
You can use /listid to register your ID list
Conclusion
Although Midjourney can generate portraits of really famous people pretty well, it wasn't possible to use this option for lesser-known celebrities or your own amazing face.
Using reference images in Midjourney can be helpful, but from personal experience, I have to say it's pretty challenging to get an accurate or consistent result that resembles the person from the reference image.
The Face Swap Bot does the job in just 1 second, and the results are blowing me away so far! Make sure to give it a try because it's so much fun!
Now You Know How to Swap Your Face in Midjourney!
I hope this tutorial has helped you understand how to swap your face in Midjourney using the new faceswapping bot, and I can't wait to see your work.
Please add me on Instagram @sprinkleofai to ask me any questions you still have, and don't forget to tag me in all your wonderful AI Art!
NEXT GUIDE: How to Animate Images with RunwayML
Learn how to Animate Midjourney Images with Generative Video with my fun easy RunwayML Gen-2 tutorial!
About the author
My name is Marloes Ratten, and I love to make things. During the day, I'm a Macrame teacher, and at night I love to go a little crazy in Midjourney.
If you would like to see more of my AI artwork, follow Sprinkle of AI on Instagram or check out more posts on my blog sprinkleofai.com!
For more info about me or my handmade items, check my blog macrameforbeginners.com, or browse my Etsy Shop for beginner-friendly step-by-step patterns.
This website features a collection of fictional characters and products crafted with Midjourney. All images are purely imaginative, and any resemblance to actual persons or products is entirely coincidental.