Let There Be Light Prompt Set – Now Available on Midjourney Circle + Candle Challenge!
Hooray, my new Midjourney prompt set, "Let There Be Light," is out now on Midjourney-circle.com. Go check it out and try them all!
Free Midjourney Circle Prompt Set
My new "Let There Be Light" prompt set is out on Midjourney-circle.com! This creative set of prompts is a fun blend inspired by candles and playing with elements of mystical light and shadow.
Joining the Midjourney Circle is free and gives you access to unique prompt sets by many talented AI artists.
Free Midjourney Circle Prompt Set
I hope you enjoy my latest free Midjourney Circle prompt set, and I can't wait to see what you make! Don't forget to tag @sprinkleofai on Instagram so I can view your marvelous art!
Join my AI Candle Challenge
I wanted to create a fun little challenge to go with the launch of my new prompt set, so let's burn some AI candles to keep ourselves warm this cold winter!
Turn your still images into fun video animations and add flickering flames to your candles with the Photoleap app. Here's how you do it:
Check my Instagram Post for an example, and join me!
Step 1: Join the Midjourney Circle, check my prompt set, and use them to create images with candles.
Step 2: Download the Photoleap app in your App Store, join the free 7-day trial, and tap on Animate.
Step 3: Upload your image, tap on Element, and scroll until you see Flicker Flame. Add the effect to your image and resize it to fit.
Step 4: Upload your animated candle to Instagram as a post or reel, and tag me for a shout-out!
More Carved Candle Inspiration
Want to create more fun carved candles? Try my 21 Free Carved Candle Midjourney Prompts and create cats, angels, Christmas trees, and more!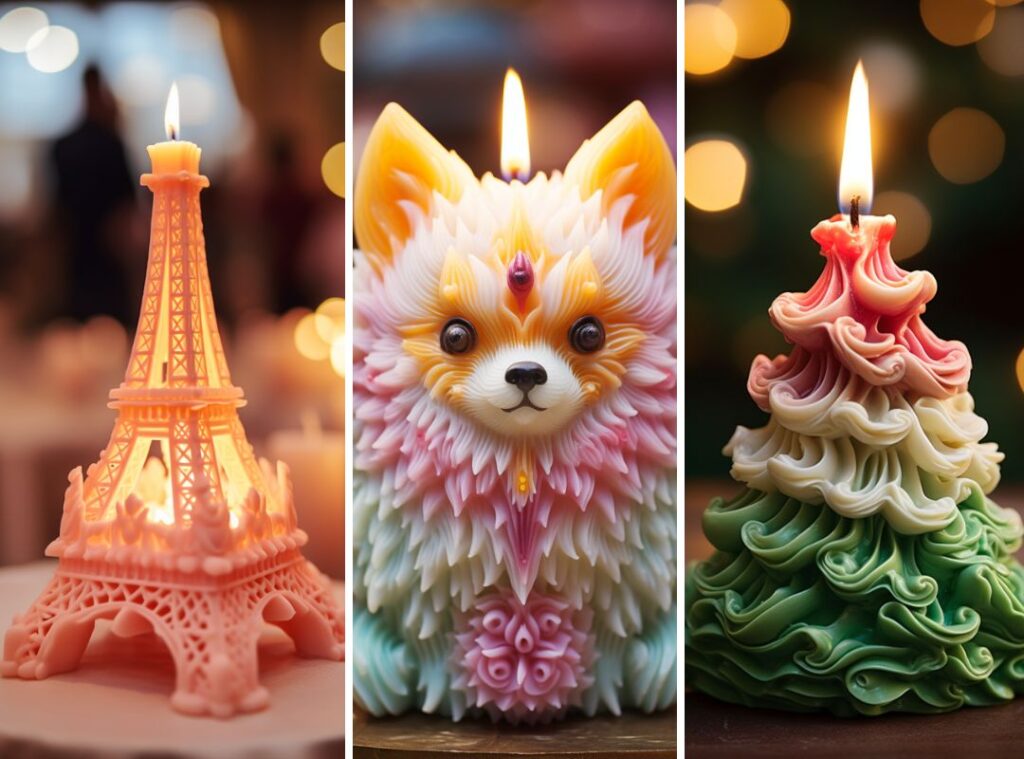 Happy Prompting!
Prompt #1 Candle Queens
Candle Queens are highly skilled in making candles and often sit on their candle thrones admiring their delightful creations.
Prompt > Midjourney-circle.com
Prompt #2 Light Bringers
Light Bringers are responsible for bringing light into the darkness and can often be found in scary dark forests.
Prompt > Midjourney-circle.com
Prompt #3 Carved Candles
The Candle Queens have been super busy carving festive candles to prepare for the annual Lotus Festival.
Prompt > Midjourney-circle.com
Bonus Prompt Candle Dress
Candle Queens bring light wherever they go and love to show off their unique handmade candle dresses in the royal palace gardens.
candid closeup photo of a giggling eccentric japanese candle queen wearing a dress made of candles, royal palace gardens, candle dress, symmetry, pastel colors --ar 2:3
That's a wrap!
I hope you enjoyed my creative candle-inspired Midjourney Circle Prompt Set! You can find more fun free Midjourney Prompt Sets in my Prompt Library!
I think you'll love my yoga-inspired Serenity Prompt Set!
Happy Prompting!
Learn how to get started with Midjourney
Check my handy free guides for beginners to set up Midjourney in just 10 minutes and learn how to write the perfect Midjourney prompt to get started right away!
Free Midjourney Prompt Sets
Discover my free Midjourney Prompt Sets and level up your creativity! I can't wait to see what you'll make with them. Check my Instagram for more examples!
About the author
My name is Marloes Ratten, and I love to make things. During the day, I'm a Macrame teacher, and at night I love to go a little crazy in Midjourney.
If you would like to see more of my AI artwork, follow Sprinkle of AI on Instagram or check out more posts on my blog sprinkleofai.com!
For more info about me or my handmade items, check my blog macrameforbeginners.com, or browse my Etsy Shop for beginner-friendly step-by-step patterns.
This website features a collection of fictional characters and products crafted with Midjourney. All images are purely imaginative, and any resemblance to actual persons or products is entirely coincidental.