How to Easily Block Instagram Spam Comments on Your Posts – Instagram Tips for Artists
Are you getting frustrated with all the spam comments on your Instagram posts? Here's how to block Instagram spam comments forever!
If you're active on Instagram, you've probably dealt with quite a lot of spam comments after publishing a post on Instagram.
In this mini guide, I will show you how to create a custom list that will block Instagram spam comments from appearing under your beautiful posts.
Add me on Instagram @sprinkleofai for more daily tips, inspiration, and artist shout-outs!
How to block Instagram spam comments
'Send Pic' or 'Promote it on' are the most annoying spam comments almost everyone on Instagram has to deal with.
You can, however, easily block Instagram spam comments by creating a list with blocked words.
Follow the next easy steps to set up your block list and prevent spam from appearing underneath your Instagram posts for good.
Step 1
Open the Instagram app, and tap the hamburger menu icon in the top right.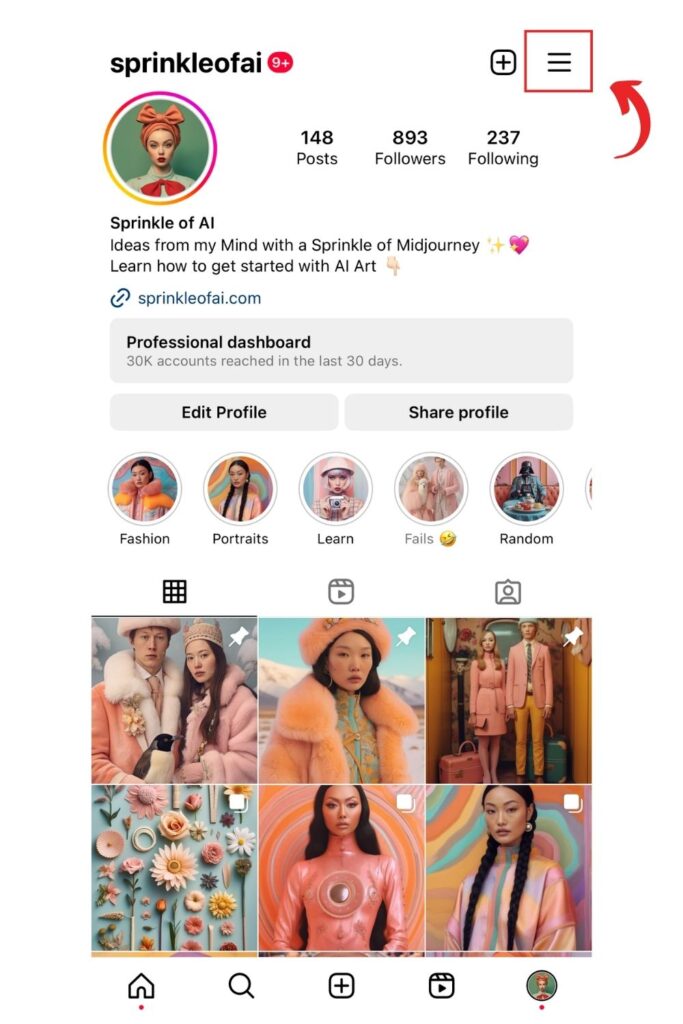 Step 2
Tap on Settings and privacy.
Step 3
Scroll down to the section How others can interact with you and tap on Hidden words.
Step 4
Under Custom words for messages and comments, tap on Manage custom words and phrases.
Make sure that Hide Comments is toggled on so they won't show up underneath your posts.
Step 5
Add the words you want to block to the list. You can add multiple words, entire phrases, and even emojis.
List of common spam comments you can block on Instagram
Here's a handy overview of the most common words and phrases that you can copy and paste directly into your blocklist on Instagram:
Promotion, Promote, Promote it on, DM, Follow me, Send pic, Send it on
You can expand this list at any time and remove or add new words to the filter if needed.
That's a wrap!
I hope this guide has finally helped you to block Instagram spam comments on your beautiful photos.
Add me on Instagram @sprinkleofai for more daily tips, inspiration, and artist shout-outs!
Learn how to get started with Midjourney
Check my handy free guides for beginners to set up Midjourney in just 10 minutes and learn how to write the perfect Midjourney prompt to get started right away!
Free Midjourney Prompt Sets
Discover my free Midjourney Prompt Sets and level up your creativity! I can't wait to see what you'll make with them. Check my Instagram for more examples!
NEXT GUIDE: 15 Best Instagram Midjourney Artists You Should Follow
Discover the best AI Artists on Instagram and all the amazing art you can make with Midjourney!
How Does Midjourney Work?
Midjourney is an AI tool that can generate original high-quality images based on simple text inputs. It creates these images through Machine Learning and is continuously trained with countless amounts of data to improve the output.
How to Use Midjourney
Midjourney works within the Discord app. You can create a free account on Discord and sign up for the beta on Midjourney.com to get an invite and start generating images.
You can learn how to set up Midjourney with my free Midjourney AI Art for Beginners Guide!
About the author
My name is Marloes Ratten, and I love to make things. During the day, I'm a Macrame teacher, and at night I love to go a little crazy in Midjourney.
If you would like to see more of my AI artwork, follow Sprinkle of AI on Instagram or check out more posts on my blog sprinkleofai.com!
For more info about me or my handmade items, check my blog macrameforbeginners.com, or browse my Etsy Shop for beginner-friendly step-by-step patterns.
This website features a collection of fictional characters and products crafted with Midjourney. All images are purely imaginative, and any resemblance to actual persons or products is entirely coincidental.